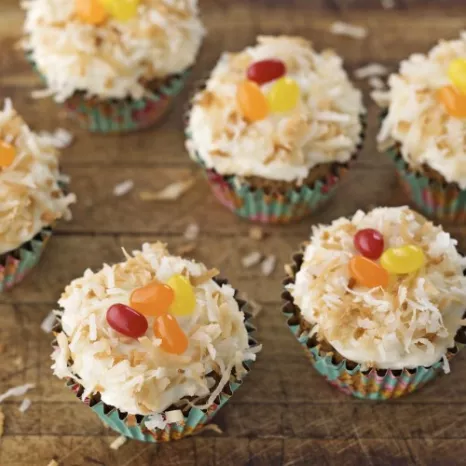 Lemon Frosted Carrot Cake Cupcakes
Cook Time:
16 - 18 minutes at 350°F Cool: 5 minutes
Top moist carrot cake cupcakes with bright and citrusy lemon frosting for a delectable spring treat.
Featured Product
Reynolds Kitchens® Baking Cups are perfect for this recipe.
With our baking cups you can make your cupcakes as special as the reasons why you bake them.
Choose from StayBrite® vibrant colours or versatile plain baking cups. Foil lined, freestanding, and easy release, with no muffin pan needed.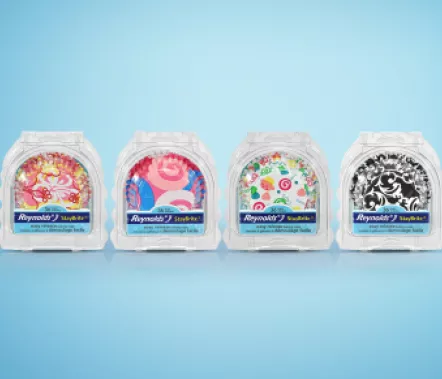 Ingredients
2 cups all-purpose flour
1 cup granulated sugar
2 teaspoons ground cinnamon
1 teaspoon baking powder
1 teaspoon baking soda
1/4 teaspoon ground nutmeg
1/8 teaspoon salt
2 cups shredded carrots (4 medium)
1/2 cup canola oil
1/2 cup unsweetened applesauce
1 egg, lightly beaten
1 teaspoon vanilla
1 recipe lemon cream cheese frosting (below)
1 cup flaked coconut, toasted
1 cup mini jelly beans or chocolate egg candies
Reynolds® Baking Cups
Directions
Step 1
PREHEAT oven to 350 °F. Line muffin pans with 24 Reynolds® Baking Cups.
Step 2
COMBINE flour, sugar, cinnamon, baking powder, baking soda, nutmeg, and salt in a large bowl.
Step 3
COMBINE the carrots, oil, applesauce, egg, and vanilla in a medium bowl. Add carrot mixture to the flour mixture; mix just until combined. Divide the batter among the prepared muffin cups.
Step 4
BAKE 16 to 18 minutes or until a toothpick inserted in centres comes out clean. Cool 5 minutes in muffin pan. Transfer cupcakes to cooling rack; cool completely.
Step 5
TOP with Lemon Cream Cheese Frosting, reserving a small amount. Make "nests" with the coconut. Dip jelly beans or candy eggs slightly into extra frosting and then place in the "nests" to keep them in place.
Lemon Cream Cheese Frosting
COMBINE 3 ounces cream cheese, softened; 3 tablespoons butter, softened; and 2 tablespoons lemon curd in a large mixing bowl. Beat with an electric mixer on medium to high speed until smooth. Gradually add 1 1/2 cups of powdered sugar, beating well. Beat in 2 teaspoons milk. Gradually beat in another 1 1/2 cups powdered sugar. If necessary, beat in additional milk, 1 teaspoon at a time, to reach spreading consistency.