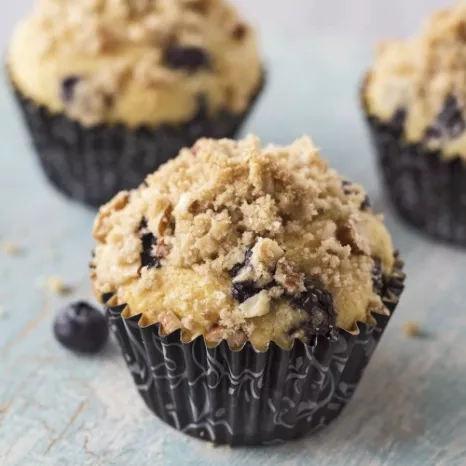 Tasty Blueberry Lemon Muffins
Cook Time:
16 - 18 minutes at 350°F Cool: 5 minutes
Two fruits are better than one with these tasty blueberry lemon muffins! Bright lemon flavour and juicy blueberries make these hearty muffins the perfect addition to any brunch!
Featured Product
Reynolds Kitchens® Baking Cups are perfect for this recipe.
With our baking cups you can make your cupcakes as special as the reasons why you bake them.
Choose from StayBrite® vibrant colours or versatile plain baking cups. Foil lined, freestanding, and easy release, with no muffin pan needed.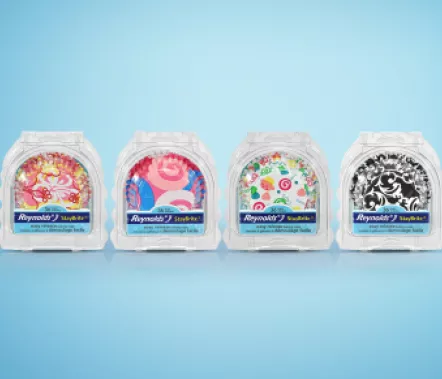 Ingredients
1 cup all-purpose flour
1 cup cornmeal
2 teaspoons baking powder
1/4 teaspoon salt
2 eggs, lightly beaten
1/2 cup granulated sugar
1/2 cup milk
1/3 cup canola oil
1 teaspoon lemon zest
1 teaspoon vanilla
1 cup fresh or frozen blueberries
1 recipe almond crumb topping (below, optional)
Reynolds® StayBrite® Baking Cups
Directions
Step 1
PREHEAT oven to 350 °F. Line muffin pan with 12 Reynolds® StayBrite® Baking Cups; set aside.
Step 2
STIR together flour, cornmeal, baking powder, and salt in a medium bowl.
Step 3
WHISK together eggs, sugar, milk, oil, lemon zest, and vanilla in a large bowl. Stir in flour mixture just until combined. Fold in blueberries.
Step 4
SPOON batter into the prepared muffin cups, filling each about three-fourths full. If desired, sprinkle Almond Crumb Topping over tops of muffins.
Step 5
BAKE 16 to 18 minutes or until a wooden toothpick inserted in the centres comes out clean. Cool in muffin pan on a wire rack for 5 minutes. Remove muffins from muffin pan. Cool slightly and serve warm.
Almond Crumb Topping
Whisk together 1/3 cup all-purpose flour, 3 tablespoons packed brown sugar, and 2 tablespoons finely chopped almonds in a small bowl. Using fingers, work in 2 tablespoons cold butter, chopped, until crumbs are formed.