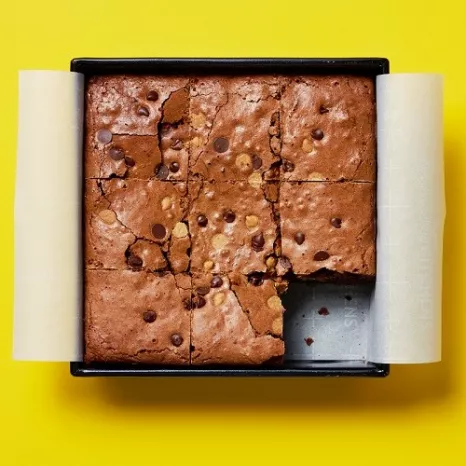 Chocolate Peanut Butter Fudge Brownies
Cook Time:
25 - 28 minutes
Chocolate and peanut butter chips come together to create a fudgy chocolate centre that makes these brownies a deliciously rich dessert.
Featured Product
Reynolds Kitchens® Unbleached Compostable Parchment Paper is perfect for this recipe.
It is completely chlorine free, made with 75% unbleached fibres, fully compostable and responsibly sourced (FSC® certified). The paper is created 12" wide, hence no trimming required and no waste*.
This oven safe, non-stick parchment paper is ideal for all your baking needs.
* When using a standard 12" baking sheet.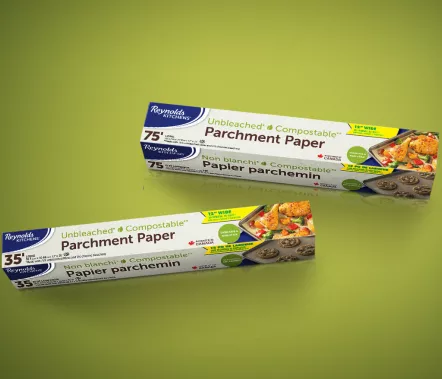 Ingredients
1/2 cup butter, melted
1/2 cup granulated sugar
1/2 cup lightly packed brown sugar
1/4 teaspoon salt (optional)
2 large eggs
1 large egg yolk
1 teaspoon vanilla extract
1/2 cup all-purpose flour
1/2 cup unsweetened cocoa powder
1/4 cup semisweet chocolate chips
1/4 cup peanut butter chips
Reynolds Kitchens® Unbleached Parchment Paper (or Reynolds Kitchens® Parchment Paper with SmartGrid®)
Directions
Step 1
PREHEAT oven to 350°F. Line a baking pan with Reynolds Kitchens® Unbleached Parchment Paper. Set pan aside.
Step 2
STIR the butter, granulated sugar, brown sugar and salt together in a medium bowl until thoroughly combined. Add eggs, egg yolk and vanilla. Whisk or beat rapidly together until ingredients are mixed and become a lighter color.
.
Step 3
ADD flour, cocoa powder, half of the chocolate chips, and half of the peanut butter chips. Stir gently until the dry ingredients are just combined, being careful not to over mix. Spread the batter in the parchment-lined pan. Sprinkle additional chocolate chips and peanut butter chips evenly over batter, if desired.
Step 4
BAKE 25 to 28 minutes or until the centre of the brownies is set and the edges are firm. Cool brownies in pan for 10 minutes on a wire rack. Use a knife to loosen brownies from sides of pan not covered by parchment paper. Use ends of parchment paper to lift brownies from pan and transfer to a wire rack to cool completely. Cut into 12 squares.