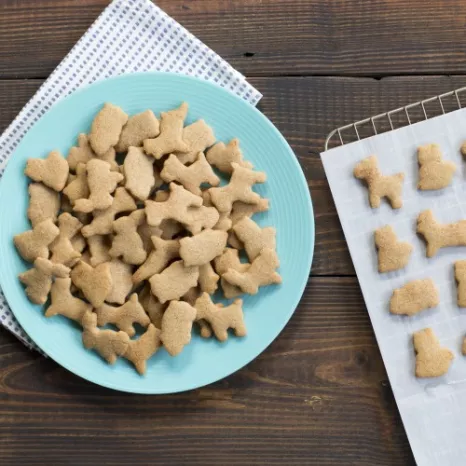 Homemade Animal Graham Crackers
Prep time:
45 minutes; Chill: 1
Cook Time:
8 - 10 minutes at 350°F
Servings:
About 120, 1½-inch cookies
Make this favourite childhood snack right in your own kitchen.
Featured Product
Reynolds Kitchens® Unbleached Compostable Parchment Paper is perfect for this recipe.
It is completely chlorine free, made with 75% unbleached fibres, fully compostable and responsibly sourced (FSC® certified). The paper is created 12" wide, hence no trimming required and no waste*.
This oven safe, non-stick parchment paper is ideal for all your baking needs.
* When using a standard 12" baking sheet.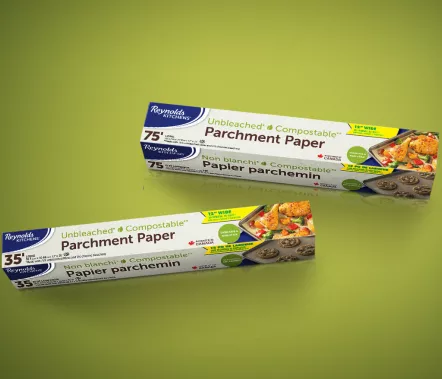 Ingredients
1/2 cup butter, softened
3/4 cup packed brown sugar
1/4 cup honey
1 egg
1 tablespoon vanilla
1 1/3 cups all-purpose flour
1 1/3 cups whole wheat flour
2 teaspoons ground cinnamon, divided
1 teaspoon baking soda
1/2 teaspoon salt (optional)
2 teaspoons packed brown sugar
Reynolds Kitchens® Unbleached Parchment Paper (or Reynolds Kitchens® Parchment Paper with SmartGrid®)
Directions
Step 1
LINE two cookie sheets with Reynolds Kitchens® Unbleached Parchment Paper; set aside.
Step 2
BEAT butter with an electric mixer in a large bowl on medium speed for 30 seconds. Add 3/4 cup brown sugar and honey. Beat until combined, scraping sides of bowl occasionally. Beat in the egg and vanilla until combined. Beat in the all-purpose flour, whole wheat flour, 1 teaspoon of the cinnamon and baking soda until well combined.
Step 3
DIVIDE dough into four portions. Wrap each portion in parchment paper and chill about 1 hour or until easy to handle.
Step 4
COMBINE remaining 1 teaspoon cinnamon and 2 teaspoons brown sugar in a small bowl; set aside.
Step 5
PREHEAT oven to 350°F. Place one potion of dough on a lightly floured sheet of parchment paper; turn dough to coat both sides with flour. Place another sheet of parchment paper over dough and roll dough between the two sheets to ¼-inch thickness. Cut out shapes with 1½-inch animal cookie cutters. Place 1-inch apart on prepared cookie sheets. Sprinkle lightly with brown sugar mixture.
Step 6
BAKE 8 to 10 minutes or until edges are firm and just starting to brown. Slide parchment paper with cookies onto a wire rack; cool completely.