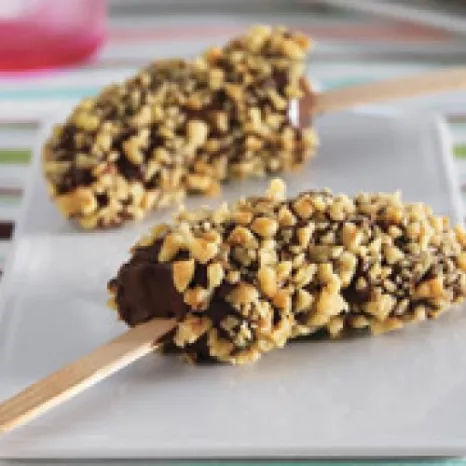 Nutty Chocolate Banana Pops
This is the ultimate dessert combining favourites like banana, peanut butter and chocolate. Be sure to make enough for the whole family.
Featured Product
Reynolds Kitchens® Cut-Rite Wax Paper is perfect for this recipe.
It makes baking preparation easier and helps with fast and easy cleanup afterwards.
Our Cut-Rite® Wax Paper is microwave safe and you can cover foods to prevent splatter. And guess what, it is also perfect for household arts and craft!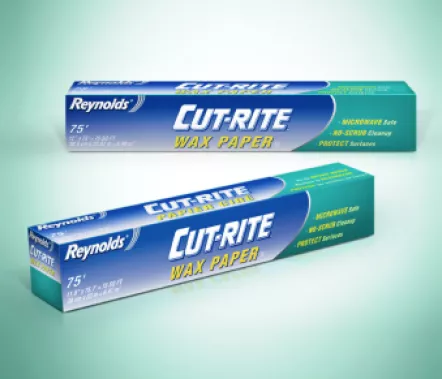 Ingredients
for banana pops:
4 ripe bananas
8 wooden sticks
for chocolate dip:
1 ½ cups semi-sweet chocolate chips
2 tablespoons peanut butter
½ cup finely chopped nuts
Reynolds® Cut-Rite® Wax Paper
Directions
Step 1
CUT bananas crosswise in half. Insert wooden sticks in each half; set aside.
Step 2
MICROWAVE chocolate chips and peanut butter in a medium microwave-safe bowl on HIGH power, 1 to 2 minutes, stirring every 30 seconds until chocolate is melted.
Step 3
LINE countertop with a sheet of Reynolds® Cut-Rite® Wax Paper. Pour melted chocolate on one end of the wax paper and nuts on the opposite end.
Step 4
ROLL banana pop in the melted chocolate to coat evenly; immediately roll in chopped nuts. Place banana pops on a tray lined with wax paper.
Step 5
PLACE in the freezer for 2 hours.
Step 6
WRAP each banana in Alcan® Non-Stick Baking Foil. Store in freezer.