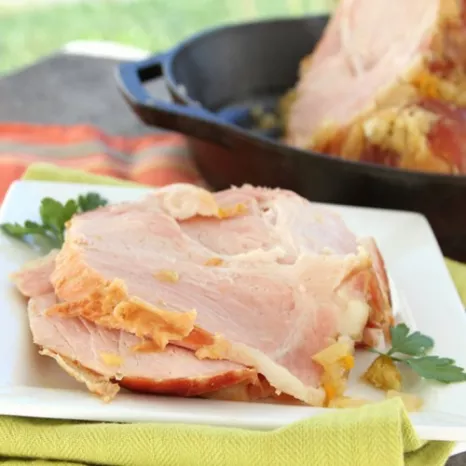 Slow Cooker Holiday Ham with Pineapple Glaze
Everyone loves seeing ham on the holiday table, so why not deliver it with a little extra flair? The addition of citrus juices and zest in this traditional glazed ham recipe will leave your family wanting more! No one has to know how easy it was to make this recipe with a slow cooker and a Reynolds® Slow Cooker Liner. Instead of having to scrub dishes after dinner, all you have to do is empty the liner and walk away. You'll be free to spend time with the people you love.
Featured Product
Reynolds Kitchens® Slow Cooker Liners are perfect for this recipe.
With our liners you can take the mess out of slow cooking by making cleanup a snap.
Reynolds® Slow Cooker Liners save time and energy, with no soaking or scrubbing needed for baked-on mess.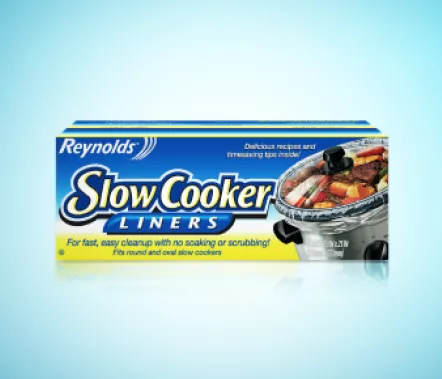 Ingredients
5 - 7 pound fully cooked ham, bone in
1 cup light brown sugar, packed
1 1/2 teaspoons whole cloves
1 orange, zest and juice of
1 lemon, zest and juice of
1 lime, zest and juice of
1 1/2 cups crushed pineapple
2 teaspoons ginger
1 Reynolds® Slow Cooker Liner
Directions
Step 1
LINE a 5-6-quart slow cooker with a Reynolds® Slow Cooker Liner.
Step 2
SPREAD brown sugar evenly across bottom of lined slow cooker.
Step 3
ADD cloves to sugar.
Step 4
PLACE ham in slow cooker, cut side down.
Step 5
POUR orange, lemon, and lime juices over ham.
Step 6
RUB all zests evenly over the ham.
Step 7
ADD ginger to pineapples and pour over the prepared ham.
Step 8
COVER and cook on low-heat setting for 5-6 hours or on high-heat setting for 3-4 hours.
Step 9
CAREFULLY remove lid to allow steam to escape. Baste every 30-45 minutes, if desired. (This is optional).
Step 10
REMOVE ham from slow cooker, top with juices, if desired. Do not lift or transport liner with food inside.