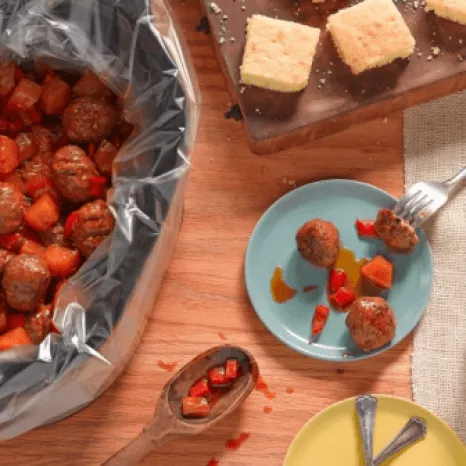 Slow Cooker Sweet and Sour Meatballs
Course:
Appetizers & Snacks
If you're looking for a new twist on a classic food item, try our recipe for sweet and sour meatballs. This slow cooker meal is easy to prepare in advance. And best of all, using a Reynolds® Slow Cooker Liner means cleanup is a snap.
Featured Product
Reynolds Kitchens® Slow Cooker Liners are perfect for this recipe.
With our liners you can take the mess out of slow cooking by making cleanup a snap.
Reynolds® Slow Cooker Liners save time and energy, with no soaking or scrubbing needed for baked-on mess.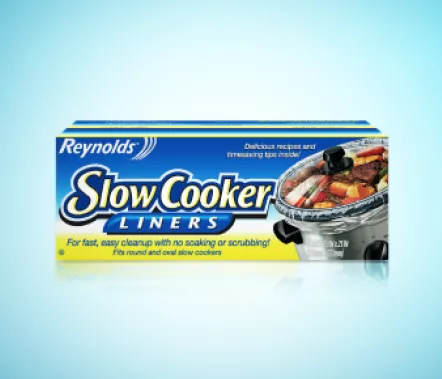 Ingredients
1 jar (9 to 10 oz.) sweet and sour sauce
1/4 cup packed brown sugar
3 tablespoons soy sauce
1/2 teaspoon garlic powder
1/2 teaspoon pepper
3 pounds frozen meatballs
1 medium red bell pepper, cubed
1 can (20 oz.) pineapple chunks, drained
Reynolds® Slow Cooker Liner
Directions
Step 1
OPEN Reynolds® Slow Cooker Liner and place it inside a 5-or 6 1/2-quart slow cooker bowl. Fit liner snugly against the bottom and sides of bowl; pull top of liner over rim of bowl.
Step 2
PLACE all ingredients in the lined-slow cooker; stir gently. Place lid on slow cooker.
Step 3
COOK on LOW for 7 to 8 hours OR on HIGH for 4 to 5 hours until done.
Step 4
CAREFULLY remove lid to allow steam to escape. Serve food directly from slow cooker. Do not lift or transport liner with food inside. Cool slow cooker completely; remove liner and toss.