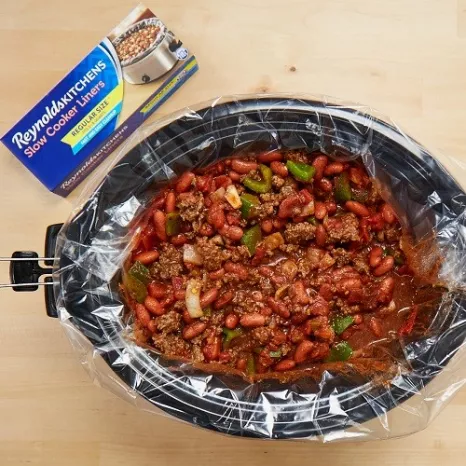 Best Slow Cooker Chili Recipe
Cook Time:
LOW for 6 - 7 hours or on HIGH for 3 - 3 1/2 hours
When it comes to Game Day foods, chili is a classic dish that is perfect for football weather. This Game Day recipe for a hearty beef chili can be prepared in a slow cooker, meaning that it's easy to prepare, store and transport. And best of all, with a Reynolds® Slow Cooker Liner, cleaning up at your next get together will be easier than ever.
Featured Product
Reynolds Kitchens® Slow Cooker Liners are perfect for this recipe.
With our liners you can take the mess out of slow cooking by making cleanup a snap.
Reynolds® Slow Cooker Liners save time and energy, with no soaking or scrubbing needed for baked-on mess.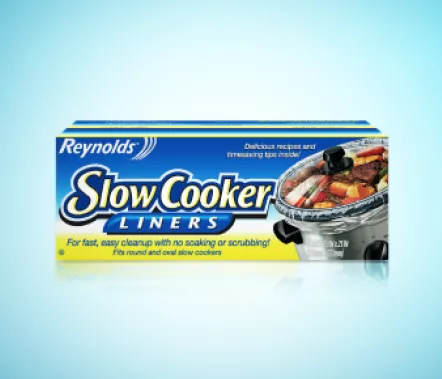 Ingredients
For Regular Size Slow Cookers
2 pounds lean ground beef
2 medium green bell peppers, chopped
2 small onions, chopped
2 cans (15 oz. each) red kidney beans, undrained
2 packages (1.25 oz. each) chili seasoning mix
2 cans (15 oz. each) tomato sauce
2 cans (10 oz. each) diced tomatoes and green chilies
cheese and sour cream (optional)
1 Reynolds® Slow Cooker Liner
For Small Size Slow Cookers
half each ingredient listed for regular size slow cookers
Directions
Step 1
LINE a 5-6 quart slow cooker with a Reynolds® Slow Cooker Liner. Fit liner snugly against bottom and sides of bowl; pull top of liner over rim. Set aside.
Step 2
BROWN ground beef, bell pepper and onion in a large skillet over medium-high heat, stirring occasionally, until beef is no longer pink. Drain well. Spoon beef mixture into the lined-slow cooker. Add beans, seasoning mix, tomato sauce, diced tomatoes and green chilies to beef mixture; STIR gently with wooden or plastic spoon.
Step 3
COVER and cook 6 to 7 hours on LOW or 3 to 3 1/2 hours on HIGH, until hot and bubbly throughout.
Step 4
CAREFULLY remove lid to allow steam to escape. Stir gently using a wooden or plastic utensil. Serve food directly from lined slow cooker. Top with cheese and sour cream, if desired. Remove all food and cool slow cooker completely before lifting liner from slow cooker. Do not lift or transport liner with food inside.
TIP
For fewer servings, use half of each ingredient and cook in a 2 ½ to 3-quart slow cooker lined with a Reynolds® Slow Cooker Liner.