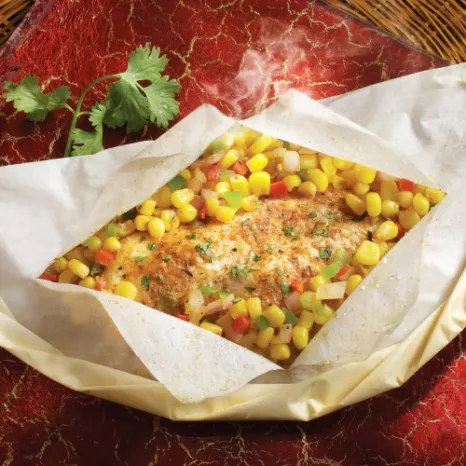 Cajun Style Catfish with Corn Salsa
Cook Time:
15 - 17 minutes
Parchment packets are an easy way to lock in all of the delicious seasonal flavours this catfish and corn salsa recipe has to offer. It doesn't get much better than a delicious meal that is also super fast to clean up.
Featured Product
Reynolds Kitchens® Unbleached Compostable Parchment Paper is perfect for this recipe.
It is completely chlorine free, made with 75% unbleached fibres, fully compostable and responsibly sourced (FSC® certified). The paper is created 12" wide, hence no trimming required and no waste*.
This oven safe, non-stick parchment paper is ideal for all your baking needs.
* When using a standard 12" baking sheet.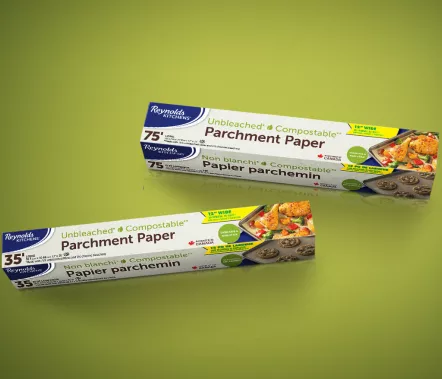 Ingredients
4 catfish fillets (4 to 6 oz. each)
2 teaspoons cajun or creole seasoning, divided
1 can (11 oz.) corn with red & green peppers, drained
1/2 cup chopped red onion
3 tablespoons fresh lime juice
1 tablespoon olive oil
1/2 to 1 tablespoon chopped jalapeno pepper
1/2 teaspoon seasoned salt (optional)
fresh cilantro, chopped (optional)
Reynolds Kitchens® Unbleached Parchment Paper (or Reynolds Kitchens® Parchment Paper with SmartGrid®)
Directions
Step 1
PREHEAT oven to 400°F. Tear off four sheets of Reynolds Kitchens®Unbleached Parchment Paper. Fold each sheet in half and crease it in centre. Unfold.
Step 2
PLACE 1 catfish fillet on one-half of each sheet near crease. Sprinkle 1/4 teaspoon Cajun seasoning evenly over each fillet.
Step 3
COMBINE remaining ingredients and remaining Cajun seasoning; spoon mixture evenly around fillet in each packet.
Step 4
FOLD over other half of sheet to enclose ingredients. Starting at top corner, make small overlapping folds down entire length of packet to seal edges together. Twist the last fold several times to make a tight seal. Repeat to make 4 packets. Place parchment packets on large cookie sheet.
Step 5
BAKE 15 to 17 minutes. Place parchment packets on dinner plates. Carefully cut an X in top of each packet to allow steam to escape. Garnish with cilantro, if desired. Serve immediately.