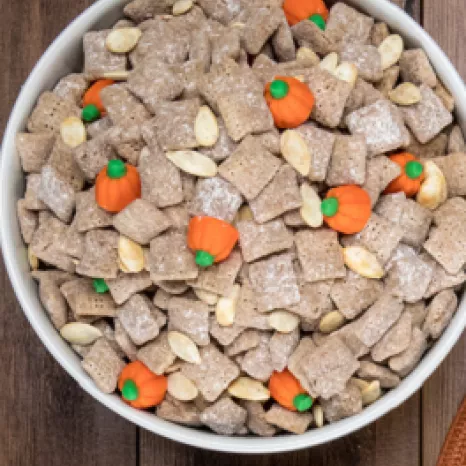 Pumpkin Spice Puppy Chow
Calling all pumpkin spice lovers! This quick and easy recipe for Pumpkin Spice Puppy Chow will be a real crowd pleaser this Fall. Use Wax Paper to create individual portions, perfect for sharing with neighbours, selling at a bake sale or using as a party goodie bag.
Featured Product
Reynolds Kitchens® Cut-Rite Wax Paper is perfect for this recipe.
It makes baking preparation easier and helps with fast and easy cleanup afterwards.
Our Cut-Rite® Wax Paper is microwave safe and you can cover foods to prevent splatter. And guess what, it is also perfect for household arts and craft!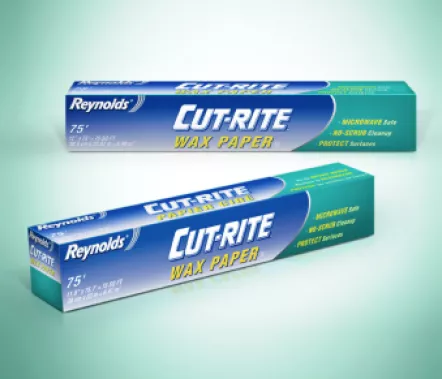 Ingredients
8 cups toasted rice cereal
1 1/2 cups roasted and salted pumpkin seeds
1 cup white chocolate chips
1/2 cup butter
1/2 cup sunflower butter (or peanut butter)
1 tsp vanilla extract
3 tsp pumpkin pie spice divided (see ingredients list below to make your own)
2 tsp cinnamon divided
1 cup powdered sugar
2 cups mellowcreme pumpkins
Make Your Own Pumpkin Pie Spice
3 1/2 tsp cinnamon powder
2 tsp ground ginger
1 tsp allspice
1/2 tsp ground clove
Reynolds® Cut-Rite® Wax Paper
Directions
Step 1
POUR cereal and pumpkin seeds onto an Alcan® Non-Stick Baking Foil lined sheet pan.
Step 2
MIX powdered sugar, 1 tsp pumpkin pie spice, and 1 tsp cinnamon in a medium bowl and set aside.
Step 3
MELT the white chocolate chips, butter, sunflower butter using a double boiler or microwave (working in 20 second increments). When completely smooth add in the vanilla, 2 tsp pumpkin pie spice, and 1 tsp cinnamon. Stir until combined.
Step 4
DRIZZLE the white chocolate mixture over the cereal and pumpkin seeds. Toss gently using a wooden spoon or hands, coating evenly.
Step 5
POUR cereal into a food storage bag. Add powdered sugar mixture and shake gently, coating the cereal and pumpkin seeds evenly.
Step 6
ADD mellowcreme pumpkins and give another toss.
Step 7
PORTION with Reynolds® Cut-Rite® Wax Paper, making a packet and tying with baker's twine.