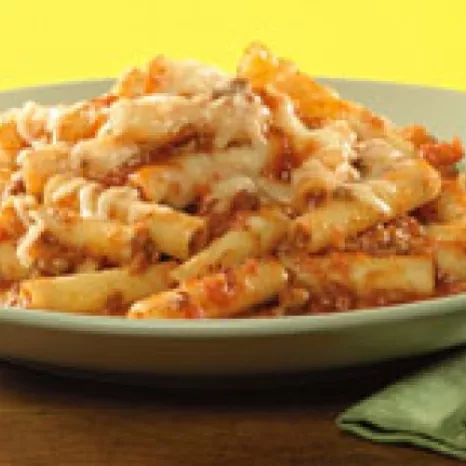 Quick and Easy Baked Ziti
This delicious Baked Ziti recipe is quick and easy and sure to become a fast favourite in your recipe book.
Featured Product
Reynolds Kitchens® Unbleached Compostable Parchment Paper is perfect for this recipe.
It is completely chlorine free, made with 75% unbleached fibres, fully compostable and responsibly sourced (FSC® certified). The paper is created 12" wide, hence no trimming required and no waste*.
This oven safe, non-stick parchment paper is ideal for all your baking needs.
* When using a standard 12" baking sheet.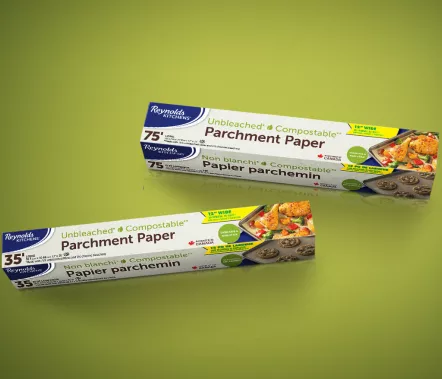 Ingredients
1 pound ground beef, browned and drained
4 cups (about 32 oz jar) chunky garden-style pasta sauce
1 tablespoon italianseasoning, divided
1 package (16 oz.) ziti pasta, cooked and drained
1 package (8 oz.) shredded mozzarella cheese, divided
1 container (15 oz.) ricotta cheese or cottage cheese
1 egg
1/4 cup grated parmesan cheese, divided
Reynolds Kitchens® Unbleached Parchment Paper (or Reynolds Kitchens® Parchment Paper with SmartGrid®)
Directions
Step 1
PREHEAT oven to 350°F. Line a baking pan with Reynolds Kitchens® Unbleached Parchment Paper.
Step 2
COMBINE ground beef, pasta sauce and 2 teaspoons Italian seasoning. Stir pasta into meat sauce; spread half of mixture evenly in parchment-lined pan. Top with half of Mozzarella cheese.
Step 3
COMBINE ricotta cheese, egg, 2 tablespoons Parmesan cheese and remaining Italian seasoning; spread over Mozzarella cheese in pan. Spread remaining pasta mixture over ricotta cheese mixture. Sprinkle with remaining Mozzarella and Parmesan cheeses.
Step 4
BAKE 35 to 40 minutes or until hot and cheese is golden brown. Let stand minutes before serving.