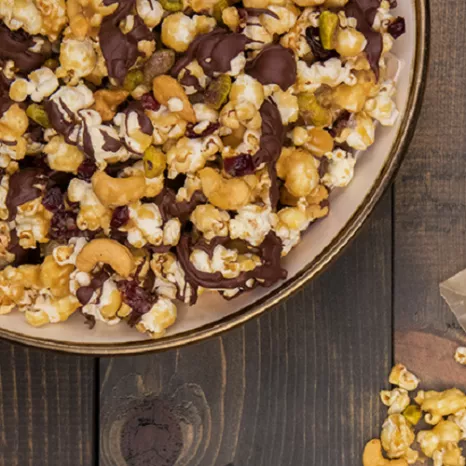 Reindeer Munch
Santa's reindeer aren't the only ones who will enjoy this festive mix. The saltiness of the popcorn, pistachios and cashews are matched perfectly by the honey, brown sugar and chocolate chips. Throw in the tartness of cranberries and you have an irresistible treat, perfect for packaging individually to give as gifts or goodie bags.
Featured Product
Reynolds Kitchens® Cut-Rite Wax Paper is perfect for this recipe.
It makes baking preparation easier and helps with fast and easy cleanup afterwards.
Our Cut-Rite® Wax Paper is microwave safe and you can cover foods to prevent splatter. And guess what, it is also perfect for household arts and craft!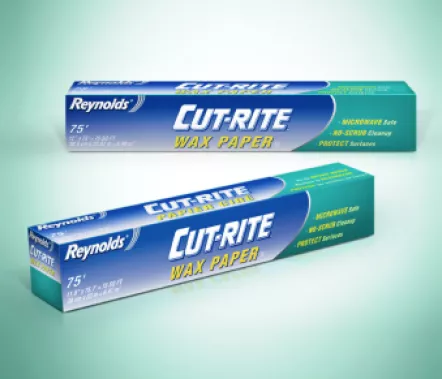 Ingredients
10 cups popped popcorn
1 cup roasted salted pistachios (shelled)
1 cup roasted cashews
1 cup dried cranberries
1/2 cup butter
1 1/2 cups light brown sugar
1/4 cup honey
6oz bittersweet chocolate chips
6oz semi sweet chocolate chips
Reynolds® Cut-Rite® Wax Paper
Directions
Step 1
PREHEAT oven to 200°F.
Step 2
LINE a sheet pan with Alcan® Non-Stick Baking Foil and cover with popcorn, pistachios, cashews, and cranberries.
Step 3
COMBINE butter, brown sugar, and honey in a medium saucepan. Stirring constantly, bring to a boil and continue boiling for another 3 minutes.
Step 4
POUR the hot mixture over the ingredients on the sheet pan, quickly and carefully. Use a wooden spoon to toss lightly, coating the popcorn evenly.
Step 5
PLACE the sheet pan in the oven for 45 minutes. Toss the mixture lightly every 15 minutes.
Step 6
MELT the chocolate using a double boiler or microwave (working in 20 second increments).
Step 7
REMOVE sheet pan from the oven. Drizzle the melted chocolate over the popcorn mixture and let cool until chocolate hardens.
Step 8
BREAK apart and portion with Reynolds® Cut-Rite® Wax Paper, making a packet and tying with baker's twine.