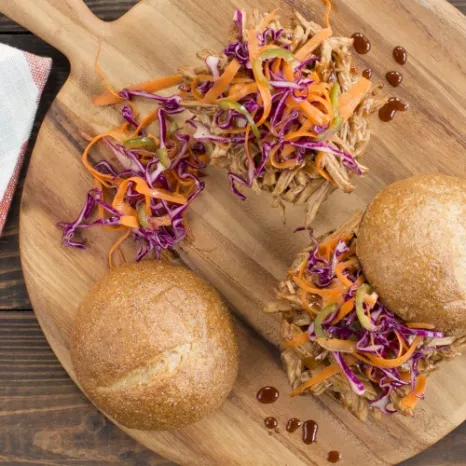 Slow Cooker BBQ Pulled Pork Sandwiches
Your favourite pulled pork sandwich just got a whole lot easier — Reynolds® Slow Cooker Liners make for a juicy pulled pork and virtually no clean-up!
Featured Product
Reynolds Kitchens® Slow Cooker Liners are perfect for this recipe.
With our liners you can take the mess out of slow cooking by making cleanup a snap.
Reynolds® Slow Cooker Liners save time and energy, with no soaking or scrubbing needed for baked-on mess.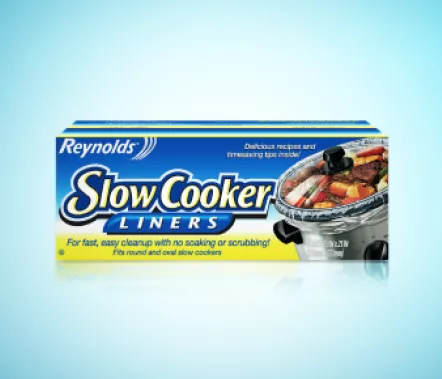 Ingredients
Pulled Pork for Regular Size Slow Cookers
2 medium onions, sliced thin
1/2 cup light beer or water
2 to 2 1/2 pounds boneless pork loin roast, trimmed of fat
1 teaspoon chili powder
1 teaspoon ground cumin, divided
1/2 teaspoon ground black pepper
1/4 teaspoon garlic powder
1 cup barbecue sauce
1/4 cup cider vinegar
1 tablespoon honey
1/2 teaspoon ground ginger
whole wheat hamburger buns, split and toasted
1 Reynolds® Slow Cooker Liner
Honey Jalapeno Slaw for Regular Size Slow Cookers
1 (16 oz) bag pre-shredded cabbage and carrots
1/4 cup olive oil
2 teaspoons lime zest
3 tablespoons lime juice
1 jalapeño, halved and sliced thin
1 tablespoon honey
1/4 teaspoon ground ginger
1/4 teaspoon salt
1/4 teaspoon black pepper
For Small Size Slow Cooker
Half each ingredient listed for regular size slow cookers
Directions
Step 1
LINE a 5- to 6-quart slow cooker with a Reynolds® Slow Cooker Liner. Fit liner snugly against the bottom and sides of bowl; pull top of liner over rim of bowl.
Step 2
PLACE onions in lined slow cooker. Pour beer over onions. In a small bowl, combine the chili powder, 1/2 teaspoon cumin, black pepper, and garlic powder. If necessary, cut meat so it will fit in cooker. Sprinkle and rub seasoning mixture evenly over all sides of pork. Place meat in slow cooker.
Step 3
COVER and cook 8 to 9 hours on LOW or 4 to 5 hours on HIGH, until pork is 160 °F.
Step 4
CAREFULLY remove lid to allow steam to escape. Change slow cooker setting to Warm. Lift pork from slow cooker to a cutting board using a wooden or silicon utensil. Pull meat apart into shreds using two forks. Ladle onions and desired amount of juices onto meat and combine. Ladle and discard remaining juices from liner.
Step 5
RETURN meat to the lined slow cooker. Add barbecue sauce, vinegar, honey, remaining 1/2 teaspoon cumin, and ginger; stir gently with a rubber spatula. Cover and heat through.
Step 6
MAKE the slaw: place shredded cabbage in a large bowl. In a screw-top jar, combine olive oil, lime zest, lime juice, jalapeño, honey, salt, and black pepper. Cover and shake to combine. Stir into the shredded cabbage.
Step 7
SPOON meat into buns with a slotted spoon. Top with slaw. Remove all food and cool slow cooker completely before removing liner from slow cooker. Do not lift or transport liner with food inside.
TIP
For fewer servings, use half of each ingredient and cook in a 2½ to 3-quart slow cooker lined with a Reynolds® Slow Cooker Liner.