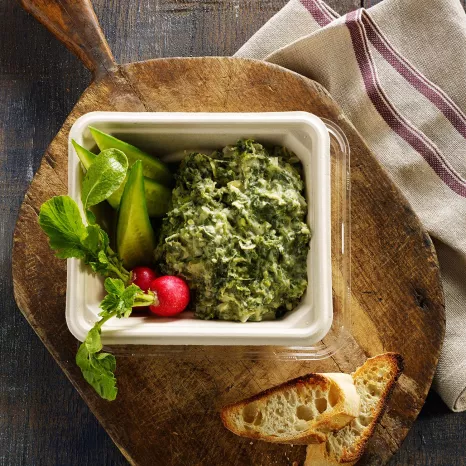 Slow Cooker Spinach & Artichoke Dip
Servings:
16 (1/4 cup) servings
Course:
Appetizers & Snacks
Slow Cooker appetizers are the best appetizers! Try Slow Cooker Spinach & Artichoke Dip out for your next get-together and have everyone asking for the recipe.
Featured Product
Reynolds Kitchens® Slow Cooker Liners are perfect for this recipe.
With our liners you can take the mess out of slow cooking by making cleanup a snap.
Reynolds® Slow Cooker Liners save time and energy, with no soaking or scrubbing needed for baked-on mess.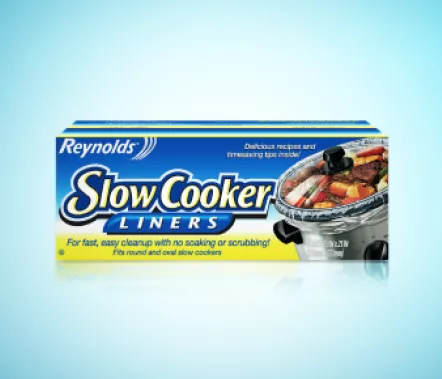 Ingredients
For Regular Size Slow Cookers
10 ounces (about 3 cups) frozen chopped spinach, thawed
8 ounces of frozen artichoke hearts, thawed and rough chopped
1/2 cup red onion, finely chopped
4 garlic cloves, minced
2 jalapeno peppers, seeded and finely chopped
2 teaspoons italian seasoning
1/2 to 1 teaspoon kosher salt
1½ cups plain greek yogurt
8 ounces cream cheese, cubed
1 cup shredded parmesan cheese
crudité, pita, crackers, baguette or crostini for serving
1 Reynolds® Slow Cooker Liner
For Small Size Slow Cookers
half each ingredient listed for regular size slow cookers
Directions
Step 1
LINE a 5-to 6-quart slow cooker with a Reynolds® Slow Cooker Liner.
Step 2
SQUEEZE thawed spinach with paper towel to remove all liquid. Combine spinach, artichoke hearts, chopped onion, garlic, jalapeno pepper, Italian seasoning and salt in a large bowl. Stir together Greek yogurt, cream cheese and parmesan cheese in a medium bowl until completely mixed. Stir the yogurt and cheeses into the spinach mixture. Spoon mixture into lined slow cooker.
Step 3
COVER and cook 2 hours on HIGH or 4 hours on LOW until dip is hot throughout. Turn slow cooker to warm setting; keep warm for up to 2 hours before serving.
Step 4
CAREFULLY remove lid to allow steam to escape. Gently stir dip with wooden or plastic spoon and serve. Serve directly from lined slow cooker with crudité, pita, crackers, baguette or crostini. Remove all dip and cool slow cooker completely before removing liner. Do not lift or transport liner with food inside.
TIP
For fewer servings, use half of each ingredient and cook in a 2½ to 3-quart slow cooker lined with a Reynolds® Slow Cooker Liner.